Silver Cross
Silver Cross Blossom Dolls Pram - Special Edition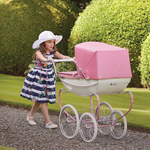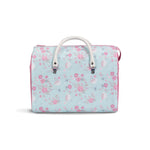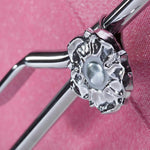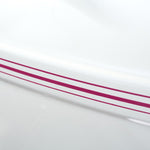 ---
---
Silver Cross Blossom Dolls Pram - Special Edition
Delightful in every way, the hand-crafted Blossom Doll's Pram has softly shimmering pink hood and apron and beautiful chrome details. This luxurious Special Edition design includes a matching changing bag in exclusive floral fabrics.
The Blossom doll's pram is hand-crafted in Yorkshire and has a timeless charm.
The high gloss body is finished in metallic white, with hand-painted pink fine line detailing. The hand-stitched hood and apron are crafted from softly shimmering pink fabrics, lined with a floral-pattern to match the changing bag. 
Each Blossom doll's pram features the signature Silver Cross C-spring suspension, high-polish chrome details and beautiful chrome-spoked wheels.
Features:
Size: 94 x 45 x 94cm
Weight: 12.5kg
Customer reviews
Click and Collect
Click and Collect available on all products, just select the "Store pickup" option in your basket before you checkout.
Fast UK Delivery
We aim to provide fast and efficient delivery on most packages to mainland UK addresses, there are some areas where we will need to charge slightly extra due to postage costs such as Highlands & Islands, Southern Ireland & Isle of Man.
Delivery is charged at a flat rate of £5.95 for all orders below £50, and free for all orders of £50 and above.