Egg
Egg 2 Stroller Luxury Bundle - Special Edition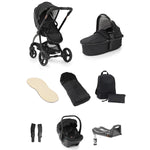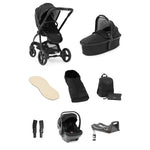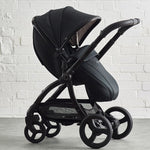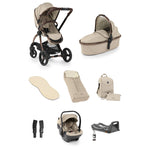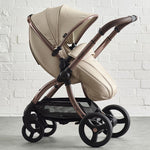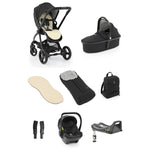 ---
---
Egg 2 Stroller Luxury Bundle - Special Edition
Following on from the feats of the egg stroller, this is egg2® – egg® Reborn.
Designed in Britain with the style conscious parent in mind, egg2® introduces the concept of evolution, keeping true to school of 'Inspired Luxury Design'.
Soft-touch marl tailoring, smooth curves, infinite lines, and superb design engineering, egg2® ensures an effortlessly smooth ride for baby and exceptional ease of use for new parents.
A proud chassis, the egg2® 5-position handle has an adjustment range of 99 x 111cm, and with a redesigned central hub sporting a proud egg® emblem. Featuring a 'one-hand fold', the chassis is compact when folded and freestands, with the handle clear from the ground.
Offering three position recline and affixed either parent or world facing, the egg2® seat is designed to promote comfort for longer. The new seat is 7cm taller and sits slightly higher. Also featuring a new slider mechanism accessed via the rear of the seat allows for the simultaneous quick 'n' easy adjustment of the harness and new headrest.
The seat canopy features a ventilation net, which can also be used as a viewing window, which can be closed using magnets sewn into the fabric.
The stroller also has larger front and rear wheels for multi-terrain strolling – the stunning tri-spoke design matches and finishes the chassis, beautifully.
Larger puncture free tyres feature a unique egg-shaped tread pattern, with the stroller leaving its mark wherever it goes. Engineered for comfort, superior handling and added durability, egg2® has been fitted with Tru-Ride®technology as standard.
A general taller and longer chassis has made for greater space in all tandem configurations.
Features:
5 Position Handle Range
Longer carrycot with ergonomic release lever, ventilation net and viewing window
3 Position recline seat unit, which is 7cm taller and sits slightly higher
UPF50+ Sun Protection
One Hand Fold, freestanding and compatc when folded
Quick and easy adjustment of harness and headrest
Extended wheelbase gives a larger shopping basket
6 approved tandem configurations
What's Included:
Egg 2 Chassis
Carrycot
Seat Unit
Egg Shell Infant Car Seat
Isofix Base
Car Seat Adaptors
Footmuff
Toploader Back Pack
Reversible Fur Liner
Apron
Insect net
Raincover
Customer reviews
Click and Collect
Click and Collect available on all products, just select the "Store pickup" option in your basket before you checkout.
Fast UK Delivery
We aim to provide fast and efficient delivery on most packages to mainland UK addresses, there are some areas where we will need to charge slightly extra due to postage costs such as Highlands & Islands, Southern Ireland & Isle of Man.
Delivery is charged at a flat rate of £5.95 for all orders below £50, and free for all orders of £50 and above.