Tiny Love
Tiny Love 5 in 1 Tiny Rider Walk Behind & Ride On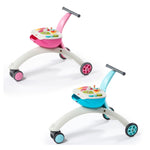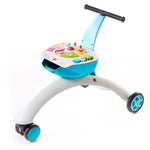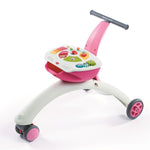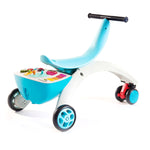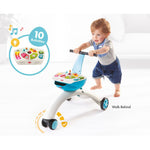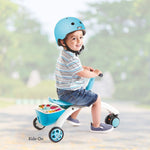 ---
---
Tiny Love 5 in 1 Tiny Rider Walk Behind & Ride On
An innovative walk behind and ride-on in one product that lets you switch between options with one easy click! With a sleek design, fun toys and state-of-the-art safety features, the 5-in-1 Here I Grow grows with your baby, rolling along with your little one on the path of development.
From 6 months: SIT & PLAY
Let your baby enjoy the electronic panel's collection of activities, including the ball, peek-a-boo & mirror, knobs and switches, Rotating ball with beads, lights and music feedback, which foster fine motor skills and cognitive development. which foster cognitive skills and develop hand-eye coordination.
10+ months: STAND & PLAY
Standing gives your baby a whole new point of view. The height of the electronic panel is perfect for the cruising stage and will tempt your baby to explore while standing, practicing balance and building up strength. It won't be long before she takes those first steps!
10+ months: WALK BEHIND
Once babies feel more confident standing, they start searching for new ways to discover! Set the wheels to slow in the walk-behind mode and let your little one explores the first steps with some extra support by using the safety brake. When baby is walking more confidently, you can switch to the gofaster mode.
15+ months: RIDE ON
When baby is ready to roll, it's time for the ride-on mode. Each child reaches this milestone at a different stage, but once they do they will love sitting and rolling around on their little bike. Vroom, Vroom!
18+ months: PUSH TOY
As a push toy, the tiny ride is the perfect companion for imaginative playtime. Just let your little one enjoy pushing her dolly around, packing the bin with cars or rolling to the moon – the sky's the limit when it comes to the imagination.
Features:
Easy switch between use modes
Wheels coated in a soft material
Speed control for baby's first steps
Front wheel 360 swivel mode
Storage bin for take along play
Electronic activity panel
Playful knobs & switches
Electronic musical buttons with 2 modes
Customer reviews
Click and Collect
Click and Collect available on all products, just select the "Store pickup" option in your basket before you checkout.
Fast UK Delivery
We aim to provide fast and efficient delivery on most packages to mainland UK addresses, there are some areas where we will need to charge slightly extra due to postage costs such as Highlands & Islands, Southern Ireland & Isle of Man.
Delivery is charged at a flat rate of £5.95 for all orders below £50, and free for all orders of £50 and above.