Baby Patent
Aqua Scale V3 Digital Baby Bath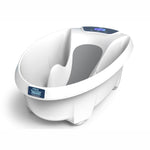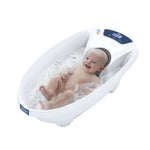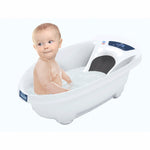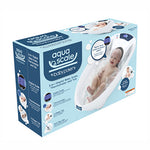 ---
---
Aqua Scale V3 Digital Baby Bath
The Aqua Scale V3 Bath is a multi-function product. It records your baby's precise weight, while making adjustments for water and movement. The built-in thermometer automatically monitors the temperature of the water to ensure that the baby is comfortable, enabling you to make any necessary adjustments to the water temperature. The specially designed unique ergonomic shape of the tub has, along with an anti-slip feature, been created to hold babies up to six months old in the perfect position for bathing. Once your baby has learned to sit, the Baby Tub easily converts to a toddler tub, accommodating children up to two years of age.
Features:
Two positions – Converts from newborn to toddler
Digital Scale allows Baby to be weighed with OR without water
Calculates baby's precise weight adjusting for water and movement
Displays baby's precise weight down to the ounce (or grams)
Display Converts from Pounds + Ounces to Kilograms (LB: OZ to KG) conversion
Memory reading functions – stores baby's previous weight
Anti-slip pad keeps baby securely in place & provides extra comfort to infant
Water Thermometer ensures water is not hot or too cold
Continuously monitors & displays water temperature on LCD
Display converts from Fahrenheit to Celsius
Can be used from birth to 24 months
2 x AAA Batteries required
Size: 73.7 x 42.4 x 24.1cm
Customer reviews
Click and Collect
Click and Collect available on all products, just select the "Store pickup" option in your basket before you checkout.
Fast UK Delivery
We aim to provide fast and efficient delivery on most packages to mainland UK addresses, there are some areas where we will need to charge slightly extra due to postage costs such as Highlands & Islands, Southern Ireland & Isle of Man.
Delivery is charged at a flat rate of £5.95 for all orders below £50, and free for all orders of £50 and above.