Chicco
Chicco Baby Hug 4 In 1 Air Bundle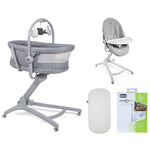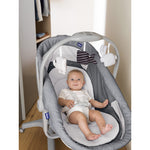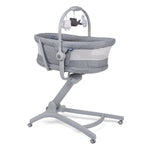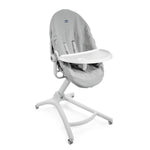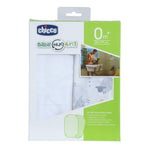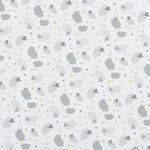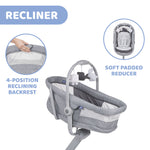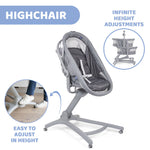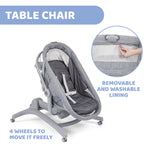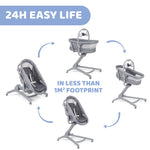 ---
---
Chicco Baby Hug 4 In 1 Air Bundle
Bundle Includes:
Baby Hug 4 in 1 Air Crib
Mattress
Mealtime Kit
Fitted Sheets
The 4 in 1 solution to manage your baby's routine from 0 to 36 months in just 1 squared meter!
Baby Hug 4 in 1 Air can be used as a crib, a raised recliner, a highchair and a table chair, to accompany you and your little one in each moment of the day. Thanks to the 4 swivelling wheels and the mesh fabric on the sides, Baby Hug 4 in 1 Air is the perfect ally to take care of your baby while managing your daily activities.
CRIB
Comfortable Crib - For their first days, Baby Hug 4 in 1 Air is a comfortable solution for nap times, thanks to the cocooning shape of the crib.
Visibility and Air Circulation - The lateral mesh fabirc allows you to always look at your baby inside the crib and ensures them an enhanced air flow.
Electronic Toy Bar - Baby Hug 4 in 1 Air is equipped with an electronic toy bar that entertains and stimulates the baby's curiosity! It's fitted with several activities such as sounds (6 lullabies and 6 funny music sounds), lights and 3 soft toys to entertain your baby during their playtime moments.
RECLINER
Entertaining Recliner - With the adjustable toy bar you can entertain your baby in total security thanks to the safety belt. In addition, the height adjustment allows you to always have the baby at your height keeping the eye contact.
Reducer - The soft padded and removable reducer of the Baby Hug 4 in 1 Air ensures maximum comfort to your baby, making them feel protected and cuddled.
Reclining Backrest - The backrest can be reclined into 3 different levels to ensure baby's comfort. Using the backrest in a reclined position can help your baby with regurgitation.
HIGHCHAIR
Practical Highchair - Starting from 6 months, Baby Hug 4 in 1 Air can be transformed into a highchair to make your life easier during weaning.
4 Wheels - Thanks to its swivelling braked wheels, Baby Hug 4 in 1 Air can be moved easily and safely around the house. In this way your baby can follow you everywhere, whatever you're doing.
Height Adjustable - Baby Hug 4 in 1 Air is also adjustable in height, in each of the four configurations thanks to a comfortable pedal that allows you to choose exactly the perfect height you need to align the highchair to the table and to keep eye contact with your baby.
TABLE CHAIR
Practical Table Chair - If you lower Baby Hug 4 in 1 Air to the minimum level it can be used by your baby while reading, drawing or watching television during snack time.
Washable - Maximum hygiene thanks to the removable and washable lining
Customer reviews
Click and Collect
Click and Collect available on all products, just select the "Store pickup" option in your basket before you checkout.
Fast UK Delivery
We aim to provide fast and efficient delivery on most packages to mainland UK addresses, there are some areas where we will need to charge slightly extra due to postage costs such as Highlands & Islands, Southern Ireland & Isle of Man.
Delivery is charged at a flat rate of £5.95 for all orders below £50, and free for all orders of £50 and above.