Spend over £50 for free shipping*
Clair De Lune
Clair de Lune Marshmallow Bed Quilt & Bumper Set - Cot/Cot Bed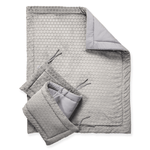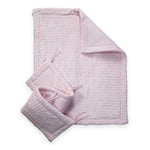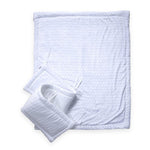 ---
---
Clair de Lune Marshmallow Bed Quilt & Bumper Set - Cot/Cot Bed
Lovingly made in Great Britain, this beautiful, plush Marshmallow Cot Bedding set will complete any nursery perfectly. The quilt is reversed with soft knitted jersey fabric for the ultimate comfort for your baby.
Made in Great Britain using plush, super-cosy Marshmallow fabric
Comes complete with Quilt & Bumper
Suitable for use with Cot, Cot Beds & Toddler Beds
Quilt: 
Approx. 4.0 tog
Fabric: 100% Polyester
Filling: 100% Polyester
Dimensions: 100 x 125 cm
Machine washable at 40 degrees
Bumper: 
Softly padded bumper with ties
Fabric: 100% Polyester
Filling: 100% Polyester
Dimensions: 145 x 35 cm
Machine washable at 40 degrees
Available in Blue, Grey Pink and White.
Made with love in Great Britain.
*This Clair de Lune cot bumper is designed to fit most cots; securely tie it to the head of the cot and regularly check that it is securely tied in place. Remove once baby can sit up unaided.
**Do not use in combination with sleep bag or blanket. Take into account the room temperature and the child's sleepwear. Overheating can endanger the life of your child.
Customer reviews
Click and Collect
Click and Collect available on all products, just select the "Store pickup" option in your basket before you checkout.
Fast UK Delivery
We aim to provide fast and efficient delivery on most packages to mainland UK addresses, there are some areas where we will need to charge slightly extra due to postage costs such as Highlands & Islands, Southern Ireland & Isle of Man.
Delivery is charged at a flat rate of £5.95 for all orders below £50, and free for all orders of £50 and above.