Spend over £50 for free shipping*
Clair De Lune
Clair de Lune Standard Rocking Moses Basket Stand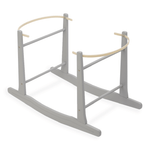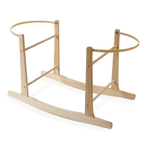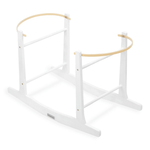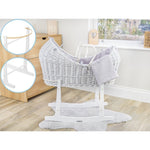 ---
---
Clair de Lune Standard Rocking Moses Basket Stand
While your baby is settled their Moses basket, you can rock them gently to sleep with this sturdy wooden stand.
With a gentle hand, you can rock your baby into a good night's sleep, while the plastic retaining bars ensure that the basket is securely held in place.
The rocking stand raises your baby to a height that is perfectly eye-level beside a standard bed and allows you to keep an eye on your baby easily throughout the night.
- Elevates your Moses basket and allows you to keep a closer eye on your baby
- Gentle forward and backward rocking motion soothes your baby to sleep
Suitable for use with Moses baskets measuring: Length 70 - 83.5 cm, and Width: 30-33.5 cm
Features:
Rocks forward & backwards for a comforting night's sleep
Easy to assemble
Can be used with all Clair de Lune Wicker Moses Baskets, Palm Baskets, Noah Pods & Bassinets
Conforms to BS EN 1466:2014
Available in Grey, Natural and White
Customer reviews
Click and Collect
Click and Collect available on all products, just select the "Store pickup" option in your basket before you checkout.
Fast UK Delivery
We aim to provide fast and efficient delivery on most packages to mainland UK addresses, there are some areas where we will need to charge slightly extra due to postage costs such as Highlands & Islands, Southern Ireland & Isle of Man.
Delivery is charged at a flat rate of £5.95 for all orders below £50, and free for all orders of £50 and above.