Lascal
Lascal BuggyBoard Maxi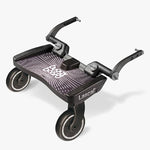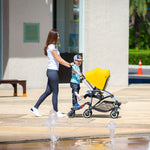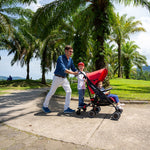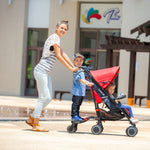 ---
---
Lascal BuggyBoard Maxi
The BuggyBoard® Maxi gives your child a smooth, safe ride, and full manoeuvrability for you, and it adds an extra-large anti-slip platform, higher ground clearance and a superior suspension to the Mini's great design. This gives you extra room for your feet, total control over rough ground, and secure grip for your child.
For tired toddlers
Perfect for kids between 2 to 6 years old weighing up to 22kg (48lb), BuggyBoard® is smart, safe and practical. This clever board positions your child between your arms for extra security even in the busiest places. And when your child is tired, they can simply hop on-board, and you won't be slowed down.
The ultimate pushchair add-on
Smart, universal and user-friendly, the Lascal BuggyBoard® easily fits to your pram or buggy, giving tired toddlers a safe, practical lift. With a clever Lascal easy-fit system, you can connect the board to almost any single or double buggy. That includes strollers, 3-wheelers, travel systems, prams and pushchairs.
BuggyBoard® makes it easier
Safely positioned between your arms, BuggyBoard® provides security for your child in crowds and high traffic areas. When your child is too tired to walk, when you are in a hurry, BuggyBoard® makes it easier.
Customer reviews
Click and Collect
Click and Collect available on all products, just select the "Store pickup" option in your basket before you checkout.
Fast UK Delivery
We aim to provide fast and efficient delivery on most packages to mainland UK addresses, there are some areas where we will need to charge slightly extra due to postage costs such as Highlands & Islands, Southern Ireland & Isle of Man.
Delivery is charged at a flat rate of £5.95 for all orders below £50, and free for all orders of £50 and above.