Doona
Doona Liki Trike S1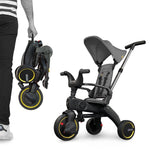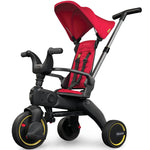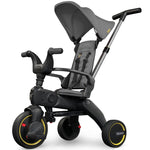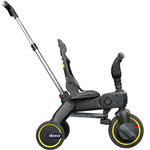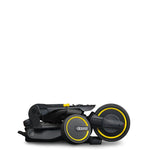 ---
---
Doona Liki Trike S1
Get ready to roll with the Liki Trike, the world's most compact folding trike.
The sleek urban design of the Liki Trike allows you to be safe and have fun. With its unique and patented small fold, the ingenious trike simply folds and unfolds at the click of a button.
Designed to easily fit in the boot of your car or the airplane's overhead bin, the Liki trike allows you to travel comfortably with your child.
Designed to grow with your child, Liki is suitable for children from 10 months to 3 years old.
Just move between Liki's 4 product stages as your child grows:
Stage 1 (Parent mode): 10-18 months – Multi-position reclining Backrest, Parent control bar, Footrest, Armrest, Canopy
Stage 2 (Push mode): 18-24 months – Multi-position reclining Backrest, Parent control bar, Footrest
Stage 3 (Tricycle mode): 24-30 months – Multi-position reclining Backrest, Parent control bar, Pedals
Stage 4 (Bike mode): 30-36 months – Lower Backrest, Pedals
Stage 5 (Folded mode): Folds with a click of a button. Perfect for travelling
Made from high grades of fiber-reinforced polymers, rust-free aluminum, and high-durability wheels the Like Trike is designed to be robust and durable. It comes fully assembled and can be used straight out of the box.
Features & Benefits:
Easy parent steering
Multi position reclining backrest
Fibre-reinforced polymers and rust-free aluminum
Patented "any-height" adjustable parent handle
Features high durability soft-ride wheels
Child safety harness
Quick-release pedals/footrests
UV sun protection canopy
Shifts between parent and child steering
What's Included:
Liki Trike
Parent control bar
High & low backrest
Technical Details:
Highest-grade fiber-reinforced polymers
Rust-free aluminum
High durability wheels
Suitable for ages: 10 months - 3 years
Maximum product load: 20 kg
Product weight: 6.7 kg  
Dimensions (WxLxH):
Folded: 32 x 60 x 23.3 cm
Open with parent handle: 93.7 x 50 x 102.5 cm
Open without parent handle: 62 x 50 x 85 cm
Customer reviews
Click and Collect
Click and Collect available on all products, just select the "Store pickup" option in your basket before you checkout.
Fast UK Delivery
We aim to provide fast and efficient delivery on most packages to mainland UK addresses, there are some areas where we will need to charge slightly extra due to postage costs such as Highlands & Islands, Southern Ireland & Isle of Man.
Delivery is charged at a flat rate of £5.95 for all orders below £50, and free for all orders of £50 and above.