Maxi-Cosi
Maxi-Cosi Cassia Swing - Beyond Graphite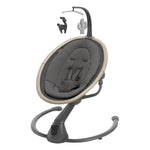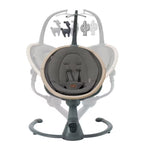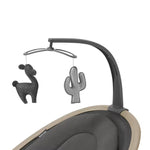 ---
---
Maxi-Cosi Cassia Swing - Beyond Graphite
A stylish electric swing designed to give parents a helping hand with their newborn when they need both of theirs free. Usable from birth up to 6 months (approx. 9kg), Cassia detects when your little one gets fussy and will instinctively start swaying to soothe them. Cocooned in the soft, padded inlay, your baby will be comforted by the 12 melodies and nature sounds that Cassia plays. Wherever you are in the room, the 360⁰ rotation ensures you always have eye-contact with your little one.
COMFORT
Everything about the Cassia is designed to comfort and soothe your baby during its first 6 months. The soft newborn inlay cocoons and comforts them while two different recline positions offer a sumptuous lay back option as well as a comfy sit up seat. And a cushioned 3-point safety harness keeps them nestled in place. Cassia has five swing speeds and 12 soothing melodies and nature sounds, to gently comfort and calm them, while you're busy working, cooking, or cleaning up close-by.
EASE OF USE
Cassia's smart touch screen control panel makes life with a little baby, a lot easier in one quick click! Being the lightest swing of its kind, Cassia is super-easy to take from room to room and its 360° seat rotation ensures that wherever you are in the room, you can always maintain eye contact with your baby. If there's no plug nearby, no worries - Cassia can also be battery operated. Easy to clean, Cassia's high quality, premium fabrics are effortless to remove and are machine washable, so the seat looks as good as new, every time.
AGE RANGE
Designed to be used from birth up to 6 months (9 kg), Cassia's soft cosy newborn inlay will comfort your baby as they learn lots of new developmental skills. With two different recline positions, your baby can transition from lying back to a more upright seat. In the first 3 months your baby will be getting to know you and bonding, so hearing your voice and having eye-contact thanks to the 360° seat rotation is key. As they grow, they'll enjoy listening to the soothing melodies and nature sounds and show their excitement by waving their arms and legs. By 6 months, their eyes can focus on and follow the toys moving up, down and all around.
DESIGN
Your baby will be swinging and swaying in style with the Cassia electric swing. Boasting premium fabrics, wood effect detailing and luxurious finishes, it will sit stylishly in every room and any modern home interior. Its intuitive smart-touch control panel looks as good as it feels. With its clean curved lines, and a range of contemporary colours, Cassia is designed to care for the future – by both comforting your newborn baby and by only using 100% recycled fabrics. Super-premium, sturdy and stylish, Cassia is a cosy, extra-embrace in which to place your baby, when you need your hands free.
Features:
Automatic Motion Detection 
Only 4kg: the lightest swing to carry easily from room to room 
Easy to use touch screen control panel 
Easy in & out harness 
Seat pad zips off/on easily and is machine washable 
Compact, space-saving frame 
COMFORT:
360° seat rotation to maintain eye contact 
Soft newborn inlay 
Multiple recline positions 
Two toys included 
2 swing directions (front to back, side to side) 
5 swing speeds 
12 soothing melodies
GENERAL:
Premium fabrics & design for styling interiors 
Can be operated either AC Power Adaptoro or batteries (batteries not included)
Eco Care 100% recycled fabrics
Customer reviews
Click and Collect
Click and Collect available on all products, just select the "Store pickup" option in your basket before you checkout.
Fast UK Delivery
We aim to provide fast and efficient delivery on most packages to mainland UK addresses, there are some areas where we will need to charge slightly extra due to postage costs such as Highlands & Islands, Southern Ireland & Isle of Man.
Delivery is charged at a flat rate of £5.95 for all orders below £50, and free for all orders of £50 and above.