Maxi-Cosi
Maxi-Cosi Rodifix Pro i-Size Car Seat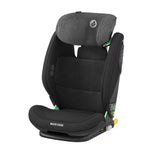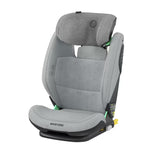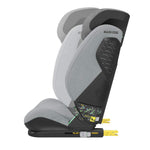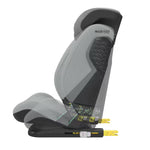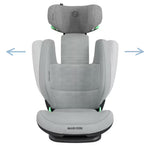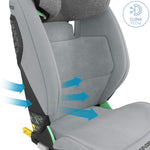 ---
---
Maxi-Cosi Rodifix Pro i-Size Car Seat
The RodiFix Pro i-Size child car seat has multiple, relaxing recline positions, offering years of comfort for your child. With i-Size safety standards and an adjustable open design which alters in both height and width, your child will always be safe & comfortable as they grow with this group 2/3 car seat. With extra high side wings to maximise side impact protection and made using Eco Care 100% recycled fabrics, now everyone can sit back, relax and enjoy the ride.
EASE OF USE
Just press a button on the back of the headrest to adjust the height as they get taller and easily move the intuitive side wings out as they get bigger.
With no armrests to get in the way, buckling-up is always quick and hassle-free. So easy in fact, that independent children can buckle-up themselves.
COMFORT
With different relaxing recline positions, your child will always be cosy & comfy on the move.
Special ClimaFlow panels and breathable fabrics encourage air circulation, ensure your child is always comfortable and at the right temperature.
RodiFix Pro i-Size provides the highest level of comfort for your child.
SAFETY
Built to the highest i-Size safety standards, RodiFix Pro i-Size provides superior protection from side impacts.
G-CELL 2.0 adds an extra built-in guard and provides maximum protection with improved 3D impact absorption, from multiple angles to ensure your child's safety.
Patented AirProtect® side impact protection in the headrest reduces the risk of head injury by up to 20% and cushioning enhances comfort for your child.
RodiFix Pro i-Size is fitted quickly and effortlessly into any car, via ISOFIX installation
GENERAL
Grows with your child both in height and width for the best comfort, from 3,5 to 12 years.
This car seat for children enables you to fit up to three kids in one row. It has a narrow design but is still comfortable due to the in width adjustable side wings.
Planet-friendly innovation to create a sustainable car seat using Eco Care, which means it has 100% recycled fabrics.
Features:
Multiple recline positions
G-Cell 2.0 Side Impact Protection
ClimaFlow for temperature control
AirProtect Safety Cushions
Narrow design allows you to fit up to 3 kids in a row
From approx. 3.5 years up to 12 years
From 100 to 150cm
15 to 36kg
Customer reviews
Click and Collect
Click and Collect available on all products, just select the "Store pickup" option in your basket before you checkout.
Fast UK Delivery
We aim to provide fast and efficient delivery on most packages to mainland UK addresses, there are some areas where we will need to charge slightly extra due to postage costs such as Highlands & Islands, Southern Ireland & Isle of Man.
Delivery is charged at a flat rate of £5.95 for all orders below £50, and free for all orders of £50 and above.