Maxi-Cosi
Maxi-Cosi Pebble 360 Pro Car Seat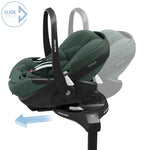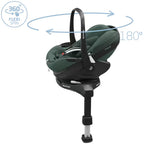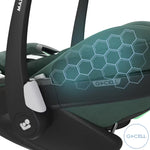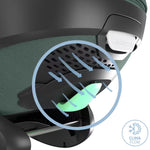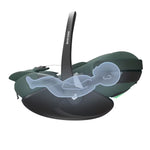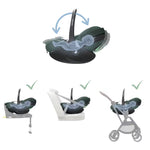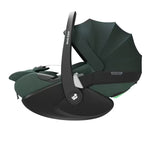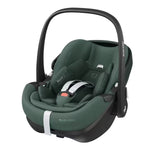 ---
---
Maxi-Cosi Pebble 360 Pro Car Seat
PRE-ORDER NOW - AVAILABLE IN 2-3 WEEKS
Compatible with the FamilyFix 360 Pro Base sold separately here
Maxi-Cosi Pebble 360 Pro is part of the 360 Pro Family range, featuring one-hand rotation and SlideTech™ – Maxi-Cosi's revolutionary sliding car seat technology that makes every day easier.
No backache, head bangs or struggles; simply lock, slide, spin and go! The Pebble 360 Pro delivers maximum sleep comfort for your baby, from birth to 15 months. The seat features three recline positions (including a superior full lie-flat position) which can be used in the car and attached on a pushchair. The lie-flat position offers a more natural sleeping position for babies, as it helps keep their airways open and allows them to breathe more easily.
When used with the rotating FamilyFix 360 Pro slide out base (sold separately here), you can effortlessly rotate and slide your child toward you. The Easy-in harness adds even more convenience, allowing you to fasten your baby in with minimum fuss. On the road, Maxi-Cosi's integrated G-CELL Side Impact Protection provides superior safety.
Innovative SlideTech™ Technology
Revolutionary sliding car seat technology makes every day easier for parents. No backaches, head bangs or struggles. With the FamilyFix 360 Pro base, simply lock, slide, spin and go!
Full Lie-Flat Position
Pebble 360 Pro reclines into a full lie-flat position in all modes – in the car, attached to a pushchair and used with or without the FamilyFix 360 Pro base.
Easy-In Harness
Pebble 360 Pro has an Easy-in harness that stays open, so you can effortlessly get your child in and out of the car.
G-CELL Side Impact Protection
Built to the highest safety standards, Pebble 360 Pro features superior integrated G-CELL Side Impact Protection to ensure the safety of your child.
One-Hand FlexiSpin Rotation
FamilyFix 360 Pro has a smart rotational system that enables Pebble 360 Pro to easily rotate using only one hand in any reclined position.
Features:
Pebble 360 Pro is TUV aircraft approved, which means it is allowed to travel with your baby by airplane, in all recline positions.
As part of the 360 Pro Family, the Pebble 360 Pro can be used from birth up to 15 months. It is compatible with the FamilyFix 360 Pro base (sold separately).
Made with soft, 100% recycled polyester fabric.
EcoCare fabrics are produced without the use of hazardous chemicals, meaning that babies' skin is not exposed to any potential risks.
Does your car seat cover need a bit of freshening up? Wipe it down with a damp cloth, or put it in the washing machine up to 30°C.
Featuring elegant embroidery design details and DuaLife fabrics, the Pebble Pro 360 is made from high-performance breathable fabrics with ultra-resistant knitting, durable duotone knitted fabric, and EcoCare 100% recycled fabrics.
Ease of Use:
The 360 Pro Family has been certified by AGR, an independent association of health care professionals, as back-friendly. Lifting up the Pebble 360 in and out of the car has never been this comfortable thanks to the revolutionary SlideTech™ technology.
Ergonomic handle lets you carry your baby to and from your car with ease.
Pebble 360 Pro is designed to grow with your baby, with seven adjustable headrest positions and an adjustable harness that can fit your little one from birth (40cm) up to 15 months (87cm).
Buckling up your baby is made easy and secure with a 360° rotation, as they are facing you directly. Only in combination with our FamilyFix 360 Pro base, sold separately.
Comfort:
Pebble 360 Pro is designed with breathable ClimaFlow panels to allow optimal air circulation and make sure your baby is always at the right temperature.
Thanks to the unique design of Pebble 360 Pro, both front seat passenger and your baby can travel comfortably when the car seat is in the lie-flat position.
The newborn inlay keeps your little one comfortable while providing a proper fit and room to grow.
The extra-large sun canopy with UPF 50+ can be adjusted easily and keeps your baby cool even in the blazing sun.
Safety:
The Anti-misuse rotation lock gives peace of mind knowing your baby always travels in the rearward-facing position, up to a minimum of 15 months.
The FamilyFix 360 Pro base has visual indicators that guarantee you install Pebble 360 Pro correctly and safely, so you can travel with peace of mind.
Meets the highest and latest i-Size safety standards (R129/03), offering maximum safety for your child both for use with a base and for installation with a vehicle seat belt.
Integrated ISOFIX connectors, on the FamilyFix 360 Pro base (sold separately), ensure your car seat base is safely locked into your car.
Customer reviews
Click and Collect
Click and Collect available on all products, just select the "Store pickup" option in your basket before you checkout.
Fast UK Delivery
We aim to provide fast and efficient delivery on most packages to mainland UK addresses, there are some areas where we will need to charge slightly extra due to postage costs such as Highlands & Islands, Southern Ireland & Isle of Man.
Delivery is charged at a flat rate of £5.95 for all orders below £50, and free for all orders of £50 and above.