Noordi
Noordi LUNO All Trails - 2 in 1 Pram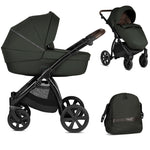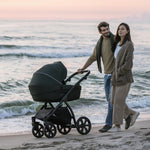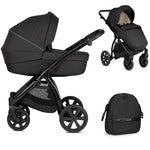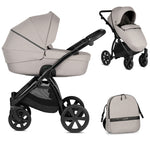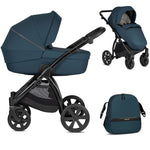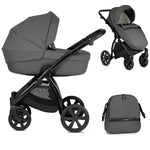 ---
---
Noordi Luno All Trails 2 in 1 Pram System
Luno All Trails is designed for the flexibility on any terrain, so it is an excellent companion for the baby's first trips. Just like a moon...
Luno All Trails provides all the possible safety & comfort that the family may need. Ultra-light & spacious thermal carrycot ThermoCot™ takes care of the baby in many ways: it regulates microclimate, protects the baby from inadequate temperature changes, and reduces humidity. Firm & high carrycot walls ensure maximum safety. An adjustable rear shock absorption system and 2nd generation Real-Gel™ wheels ensure perfect handling in all terrains.
Now nothing can stop you enjoying smoothest rides with your baby.
Features & Benefits:
Noordi Luno All Trails is designed, not just for all terrains, but all weathers too. With water-resistant fabrics, UV 50+ protection, and a thermo-regulating ThermoCot™ carrycot, Noordi Luno adapts to all weather conditions. 
Luno Lightweight ThermoCot™ safe carrycot - The Arcel thermo carrycot is made from materials used in crash helmets - using these technologically advanced lightweight materials the carrycot is ultra-light at only 3.55 kg.
Forward or rearward facing detachable seat unit with separate tailored extendable hood and foot apron.
Height adjustable Eco Leather handlebar (72-112cm).
Large deep expandable shopping basket.
Adaptable all-terrain suspension for the city and the mountains - offers baby maximum comfort at all times.
Puncture proof tyres using 2nd Generation REAL-GEL™ WHEELS makes sure that no additional maintenance of the wheels is required.
Complete with coordinating accessories included
What's Included:
Carrycot with integrated mosquito net
Pushchair seat unit
Protective Eco Leather bumper bar for the seat unit
Chassis
Large expandable shopping basket
Cup holder
Backpack pram bag
Apron cover for carrycot
Apron cover for pushchair seat unit
Mattress
Rain protection
Why Buy the Luno All Trails?
Carrycot of the future - The Luno Arcel thermo carrycot is made from materials used in crash helmets - using these technologically advanced lightweight materials the carrycot is ultra-light at only 3.55 kg.
Ultralight ThermoCot ™ thermal carrycot - Wide & safe carrycot that regulates microclimate, includes a built-in ventilation system and reclining back rest which plays a big role in your baby's health and safety
Peekaboo window - Unique wind protection apron with magnetic clasps and panoramic peek-a-boo window. So you can watch over your baby while he sleeps.
SILVER-IONS™ technology - Inner cotton fabrics with SILVER-IONS ™ technology ensures protection for baby from germs as it makes surfaces and materials inhospitable to microbes such as bacteria and mould.
Hood extensions and ventilation - Hood extension provides ventilation, while the adjustable hood visors and Water-resistant UV 50+ Sun protection materials create a protective environment for baby.
Superior suspension - The adjustable suspension and the four-wheel shock absorption system – provides smooth rides.
Puncture proof tyres - 2nd generation REAL-GEL™ WHEELS are filled with a special gel that extends the durability and makes sure that no additional maintenance of the wheels is required.
Accessories included - Coordinating pram changing bag, raincover, mosquito net, cup / bottle holder, extra large shopping basket, carrycot hood & apron, mattress, pushchair hood and foot apron all included as standard.
Wide seat unit - Spacious and comfortable seat unit with an adjustable backrest + a lie flat option. Includes protective bumper bar and belt for additional comfort and protection for your little one.
5-point magnetic safety harness - Height adjustable 5-point safety harness with magnetic harness system for your toddler's safety.
Pushchair hood extensions - Double hood extension on the pushchair seat unit for elongation and ventilation. Also comes complete pushchair foot apron.
Compact folding - All-around safe chassis folding system with quick release wheels for more compactness. Can be folded with or without seat unit attached.
Weights & Dimensions:
Pram unfolded: L 104 x H 120 x W 60 cm
Pushchair unfolded: L 102 x H 115 x W 60 cm
Pram Carrycot inside dimensions / Weight: 84 x 38 cm / 3.55 kg
Seat unit inside dimensions / Weight: 94 x 38 cm / 4.6 kg
Chassis + wheels: 8.65 kg
Folded fits into the space: 78 x 60 x 32 cm
Handle height: 72 – 112 cm
COMPATIBLE CAR SEATS
Convert any Noordi 2in1 pram into a full 3in1 travel system with the Noordi Multi Car Seat Adaptors and the Noordi Infant Car Seat (available separately).
Noordi prams are also compatible with most branded infant car seats on the market when used in connection with the Noordi Multi Car Seat Adaptors.
Customer reviews
Click and Collect
Click and Collect available on all products, just select the "Store pickup" option in your basket before you checkout.
Fast UK Delivery
We aim to provide fast and efficient delivery on most packages to mainland UK addresses, there are some areas where we will need to charge slightly extra due to postage costs such as Highlands & Islands, Southern Ireland & Isle of Man.
Delivery is charged at a flat rate of £5.95 for all orders below £50, and free for all orders of £50 and above.