Shnuggle
Shnuggle Air Bedside Crib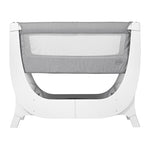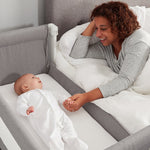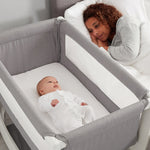 ---
---
Shnuggle Air Bedside Crib
The Shnuggle Air Crib gives your little one a safe, close and cosy place to sleep. Height adjustable to match your bed with breathable mesh sides and INCLUDED extra breathable mattress.

Not to be confused with cheaper cribs, the Shnuggle Air Crib is made from a beautiful wooden frame to match your other bedroom furniture. It is designed to last and grow with you baby with the option to convert your crib into a stylish cot with our Cot Conversion Kit. (Sold Separately)
The perfect next to me crib to keep your baby close for night time feeds.

Suitable from 0 – 6 months or when baby starts to roll over, pull up or reach a weight of 9kg. Crib mattress included.

Crib fully tested and compliant with the latest safety standard BS EN 1130:2019.

When baby outgrows their crib, ease the crib-to-cot transition by converting your crib into a full sized cot (120cm x 60cm). Just add the Cot Kit and Cot Mattress to your order.

Safe Sleeping Industry standards advise that babies sleep safest in bedside cribs with the side up. The drop-down side allows you to access baby easily for feeding and comforting, but the side should remain up while baby or adult is sleeping.
Please ensure you check your bed's compatibility and that the bedside crib is attached to your bed correctly and securely.
Never leave baby sleeping with the side down on the crib as per user instructions.
Customer reviews
Click and Collect
Click and Collect available on all products, just select the "Store pickup" option in your basket before you checkout.
Fast UK Delivery
We aim to provide fast and efficient delivery on most packages to mainland UK addresses, there are some areas where we will need to charge slightly extra due to postage costs such as Highlands & Islands, Southern Ireland & Isle of Man.
Delivery is charged at a flat rate of £5.95 for all orders below £50, and free for all orders of £50 and above.