Recaro
Recaro Salia 125 I-Size Child Car Seat - Select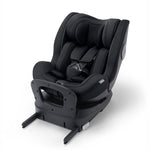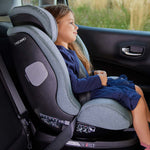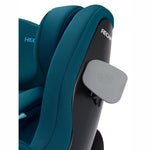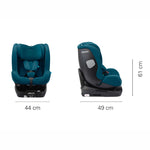 ---
---
Recaro Salia 125 I-Size Child Car Seat - Select
THE CONVENIENT SAFETY EXPERT
Salia 125 is the safe companion on the road and impresses with a long usage period from birth to 7 years. It can be used both forward and rearward facing. Nothing prevents a pleasant ride, thanks to the comfortable foam and the removable, cosy newborn inlay for the smallest travellers. But Recaro have also thought of the parents in terms of comfort. Thanks to the 360-degree rotation, the child can be put in and taken out of the seat in an ergonomic way. We got your back!
LONG USAGE PERIOD - The Salia 125 impresses with a long period of use - suitable for newborns up to seven year old toddlers (40 – 125 cm). The height-adjustable headrest adapts perfectly to the height of the children and automatically grows as they do. The included comfort inlay provides protection and cosiness even for the smallest ones.
360 DEGREE ROTATION - The seat can be easily rotated a full 360 degrees, offering total freedom of action. This uncomplicated mechanism allows you to quickly buckle your child in, but also unbuckle them, and the seat then rotates back to its original position.
ADVANCED SIDE PROTECTION (ASP) - Simply fold out the integrated ASP protectors on the door side. In the event of a side collision, the energy absorbers reduce the force that would act upon the child.
AIR VENTILATION SYSTEM - Thanks to openings in the outer shell and mesh inserts in the seat cover, a continuous flow of air ensures particularly comfortable sitting.
INTUITIVE INSTALLATION - The use of ISOFIX and load leg makes installation simple and ensures a stable and secure positioning of the child seat in the car. The three anchorage points keep the seat in position and absorb the energies acting on the child in the event of an accident.
INDIVIDUAL RECLINE POSITION - This seat is equipped with several forward and rearward facing recline positions - regardless of whether the child is strapped in with the integrated harness system or with the vehicle's seat belt. For a comfortable ride in any position.
Size: 44 / 49 / 61cm
Weight: 14.8kg
Customer reviews
Click and Collect
Click and Collect available on all products, just select the "Store pickup" option in your basket before you checkout.
Fast UK Delivery
We aim to provide fast and efficient delivery on most packages to mainland UK addresses, there are some areas where we will need to charge slightly extra due to postage costs such as Highlands & Islands, Southern Ireland & Isle of Man.
Delivery is charged at a flat rate of £5.95 for all orders below £50, and free for all orders of £50 and above.